Paul Griffith, founder and secretary of the Bitter Owners Club, died on June 23rd 2006. There is no better way to describe who Paul was and what he meant for the BOC in particular but also for the entire Bitter enthusiasts community than with the following words of a fellow-countryman and BOC member.

I personally had huge respect for Paul Griffith, for his many many qualities. He was a caring man that took an interest in all the people around him, had a grate strength of personality and character to name just a few: his infectious enthusiasm, good humour, sincerity and the way he ran the Bitter Owners Club in a completely ethical way, without egoism, self-interest or financial-reward.

Ultimately Paul was a terrific ambassador seeking to promote and preserve the Bitter heritage. At the very least Paul Griffith was the founder of the Bitter Owners Club, the author of his book (Bitter the Cars) and the Secretary, magazine (Best Bitter) compiler/editor until he died, and what an ambassador he was and remains.

Derek Hunt, Watchet, Somerset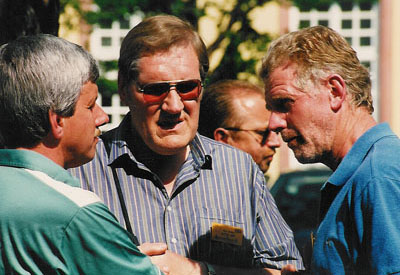 Paul Keefe and Paul Griffith chatting with Erich Bitter.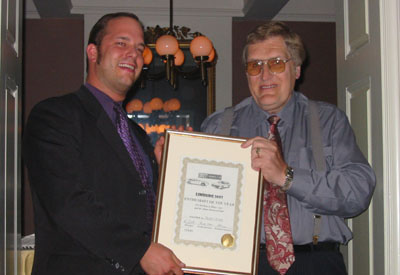 Paul and "Enthusiast of the Year" Thomas Plehn in Vaals (2003).
Speech... speech... in Brands Hatch (2004).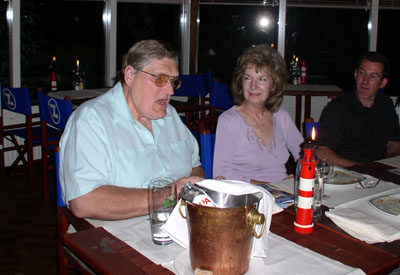 Paul and Christine in Westkapelle (2005).
As from the 2006 BOC Rally in Lipperscheid, Luxembourg, the former best Car of the Rally Award was replaced with the Paul Griffith Memorial Cup. The cup will be handed over each year by the last year's winner to the new winner.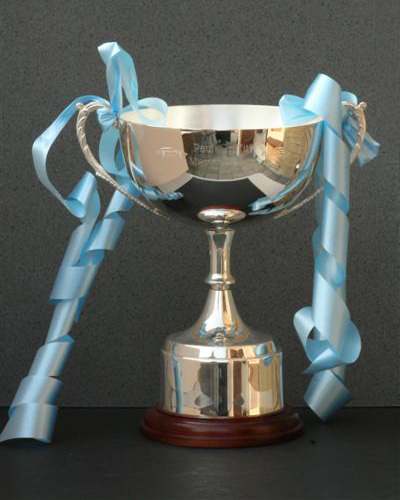 Paul Griffith Memorial Cup.
Ben de Wilde from Holland receives the 2006 Paul Griffith Memorial Cup
for his superb SC 608.